The Official Newsletter of the Loree Lough Site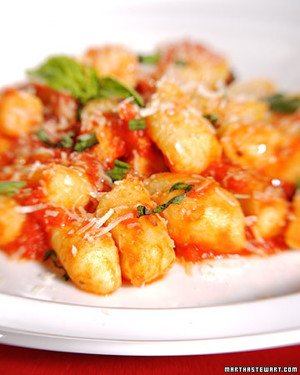 NONNA'S BEST-EVER GNOCCHI
Ingredients
3 pounds large baking potatoes
2 large eggs
1 large egg yolk
2 cups all-purpose flour
1-2 teaspoons salt
Directions
Dump all of the flour onto a well-floured surface. Make a well in the center of the pile, so that it resembles a big white volcano.
Beat eggs and yolk in a small bowl and set aside.
Peel, dice, and boil potatoes until very tender. Drain, mash, and cover with a damp cloth to retain heat. POTATOES MUST BE USED WHILE WARM.
Start a big pot of water to boil (so it's ready when the gnocchi is). Add 1-2 teaspoons salt. Lightly oil your colander and slotted spoon.
Now place the beaten eggs into the flour well.
SLOWLY add potatoes. Using your fingertips, gently ease the flour into the eggs and potatoes. (OVERWORKING THE DOUGH WILL RESULT IN 'GUMMY' GNOCCHI.) Continue until flour, eggs, and potatoes are fully blended.
Pinch off a 1½ - 2" clump and place on a LIGHTLY FLOURED surface. (Too much flour will make the gnocchi heavy.) On a separate lightly-floured surface, GENTLY roll into a 1" log. Repeat until you've used all the dough and you have about 3 dozen logs.
Using a well-floured VERY SHARP knife (NOT serrated), slice the logs ON AN ANGLE, into 1" pieces. When all your logs are cut into pieces, add them to the boiling water A COUPLE DOZEN AT A TIME.
As soon as the gnocchi float to the top of the water, REMOVE THEM with a slotted spoon and place in a slightly-oiled colander. OVER-BOILING WILL RESULT IN GUMMY GNOCCHI.
Serve immediately, smothered in favorite sauce.