The Official Newsletter of the Loree Lough Site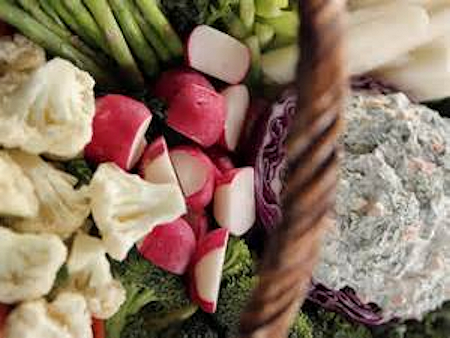 Spring Veggies and Spinach Dip
Ingredients
For the spinach dip...
One 10-ounce package frozen spinach, thawed and drained
One cup sour cream
½ cup mayonnaise
3 spring onions, chopped
1 carrot, peeled and chopped
1 clove grated garlic
Juice of ½ lemon
Salt & pepper

For the veggies...
2 bunches asparagus
2 bunches kale
6 carrots, cut into strips
2 red bell peppers, cut into strips
1 head broccoli, broken into florets
1 head cauliflower, broken into florets
1 bunch spring onion
1 bunch radishes, each cut in half
1 head red cabbage, hollowed-out (to hold the dip)
Directions
For the spinach dip...
In a medium bowl, mix spinach, sour cream, mayo, green onions, carrots, garlic, lemon juice, half of the salt and pepper. Cove and chill for 2 hours.
For the veggies...
Bring a large pot of water to a boil. In separate pot or large bowl, prepare an ice water bath. Blanch the asparagus in the boiling water, until bright green but still crisp. Transfer to the ice water bath to stop cooking process. Drain, dry with paper towels, and set aside.
Line a pretty basket with a paper doily and cover with kale. Then, arrange the remaining veggies on top of it, leaving space in the center for the dip.
Spoon the dip into the hollowed-out cabbage and place in the center of the basket, and voila!
--Recipe and photo from Ree Drummund